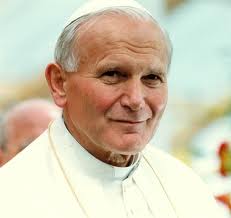 St. John Paul II continually called the young people to "Be not afraid."  He believed in the youth, he challenged the youth to be heralds in the new evangelization, he entrusted them to the Blessed Mother.  As a supporter of YOUTH 2000, it is only fitting to call on John Paul II to pray for the young people who attend the retreat  – that they be open to Holy Spirit and His movement in their lives and encourage his intercession in bringing all the young people to a deeper understanding and love of Jesus truly present in the Eucharist.
JPII Facts…
Born Karol Joseph Wojtyla (Voy-tee-wah) in Wadowice, Poland, Pope John Paul II is the first Slav to head the Roman Catholic Church, the first non-Italian pope in 455 years, the youngest pope in a century, and the first since Pius II in the 15th century to be a "man of letters." He also has among the most interesting biographies. Before his ordination as a priest, he was a member of an experimental theater group, a stonecutter, a published poet, and a chemical company boiler-tender.
"Daredevil," is how the Archdiocese of Newark describes the ahletecism of the Pope's youth. Possibly the most athletic Pope in history, John Paul II in his youth played soccer as a goalie, took daring swims in the flooded Swaka River, and enjoyed skiing, hiking, mountain climbing and kayaking.
Pope John Paul II may be the only Pope whose life was portrayed in a comic book. In 1983, Marvel Comics published a Pope biography.
No other Pope has traveled as extensively as Pope John Paul II. His world travels have taken him to 117 countries and every continent excluding Antarctica.
At age 75, Pope John Paul II has survived numerous accidents and an assassination attempt. As a young man during the German occupation of Poland, he was hospitalized twice, after accidents involving a streetcar and a German army truck. He suffered severe wounds in May, 1981, when shot by Mehmet Ali Agca as he entered St. Peter's Square to address an audience. In 1992, a benign intestinal tumor was removed; in 1993, a fall in Vatican quarters injured his shoulder; in 1994, he broke his thigh bone in another fall, forcing him to cancel his planned trip to New Jersey.
In his 26 and a half years as Pope, John Paul II held nine consistories in which he has created 232 cardinals, of whom one is "in pectore." He has created all but three of the 117 cardinal electors who will enter into conclave.
From the start of his pontificate, the Holy Father named over 3,500 of the world's nearly 4,200 bishops. He met each of them a number of times over the years, particularly when they fulfill their quinquennial obligation of a visit "ad limina Apostolorum."
He has written 14 encyclicals, 14 apostolic exhortations, 11 apostolic constitutions, 42 apostolic letters and 28 Motu proprio in addition to hundreds of other messages and letters. In preparation for the Jubilee Year 2000, Pope John Paul wrote the Apostolic Letter "Tertio Millennio Adveniente," dated November 10, 1994, and published four days later. He also created the Committee for the Great Jubilee of the Year 2000.
He wrote five books: Crossing the Threshold of Hope (1994), Gift and Mystery (1996), Roman Triptych (poetry, 2003), Arise, Let us Be Going (2004) and Memory and Identity (2005).
Over the years, the Holy Father undertook 104 pastoral visits outside Italy, the last of which was to Lourdes in August 2004. He made 143 trips within Italy and nearly 700 within the city and diocese of Rome, including visits to 301 of the 325 parishes of the diocese of which he is bishop, in addition to religious institutes, universities, seminaries, hospitals, rest homes, prisons and schools.
With his 247 foreign and Italian pastoral visits, Pope John Paul II reached the 1,167,295 kilometer mark (700,380 miles), that is, over 28 times the earth's circumference or 3 times the distance between the earth and moon.